There's no question about the growing importance of online reviews, even if your business is entirely offline.
Increasing your online reviews can be tricky if you don't have an action plan, or if you're in the type of business where your customers aren't likely to go online and review you.
Luckily, there are many simple things that can significantly increase the number of reviews your business gets, as well as making sure that those reviews turn out positive.


Here's a 5-Point Action Plan to start getting more online reviews for your business today.
1. Make Your Business Easy to Review
People tend to be lazy by nature, and this includes your clients!
Good marketers have always realized that the only way to get someone do things that don't directly benefit themselves is to make it as easy and frictionless as possible.
What does this mean for you? A few things:
Make sure your business is visible across all major review sites.
Having a profile on Yelp is all good, but not all of your customers will use Yelp. Some of them may be happy to give you a review, but only on Google where they're probably already signed in. Others might prefer Facebook or another platform.
It's important that your business is listed on ALL the major review sites even if you decided to primarily focus on just one. This includes generic sites like Google Reviews, Yelp and Facebook, but also industry-specific review sites too. If you're a lawyer, you'll want to appear on Laywers.com and Avvo.com. If you're running a restaurant then TripAdvisor and OpenTable are a must.
Do your research to see which review sites matter in your industry and open up a business profile there. Most of these sites will allow you to list your company free of charge.
Complete your profile information. It only takes a minute!
There's nothing less inviting for your customers than to review a business that hasn't set itself up fully on the review site.
A mini-study that we completed showed people are 87% more likely to review businesses that have an established-looking profile, as opposed to those that don't.
Here's an example of a restaurant with an established Yelp profile: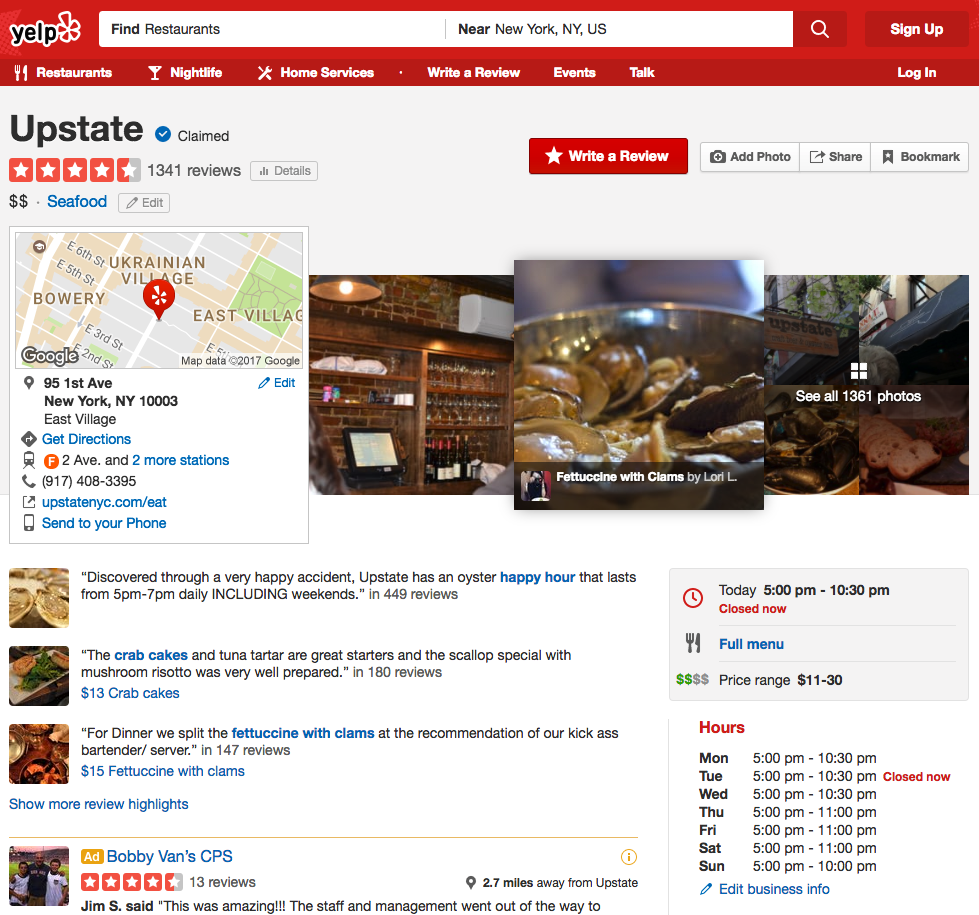 As you can see, it includes nice photos of the place, an accurate address, opening times and if you scrolled further down you'd even see a snapshot of their menu.
Not only does this clearly indicate that the business cares about their reviews, it also makes it much easier for potential customers to find it.
So go ahead and beef up your review site profiles – there's really no excuse not to!

2. Ask and You Shall Receive
Many of our reputation management clients come to us with the same story:
"In my industry, customers are simply not in the habit of leaving reviews!"
This might be true if you sell the kind of products or services where your store entrance can only be found in a side-alley, but for the majority of businesses, this myth is quickly becoming extinct.
If you were to look at reviews for other businesses in your industry, you'll almost definitely find ones that have A LOT of reviews already. These are the businesses that have a head start and steal your customers away as more consumers rely on reviews to make decisions about everything they purchase.
This is why it's even more important to proactively source reviews in industries where leaving reviews is not a habit that most people have.
So how do we do it?
By asking!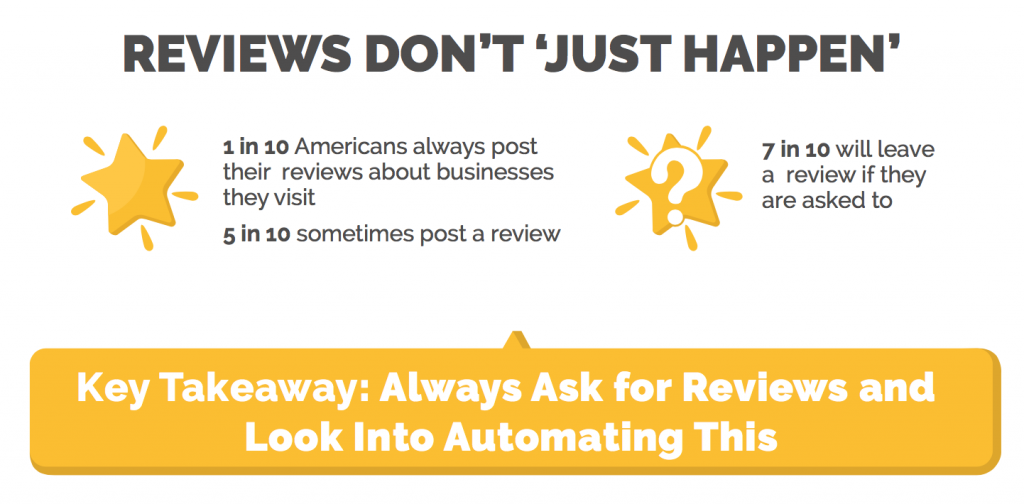 But how do we do it? There are several ways:
Option 1: Ask them in person
The option that requires the least amount of preparation is just that – asking your clients!
When a client is about to leave your business, ask them if they could take the time to review their experience on Yelp (or Google / Facebook, depending on your current priority).
This doesn't result in a huge influx of reviews as customers tend to forget, but if you're serving 15 clients a day and just 1 of them leaves a review, that's 180 reviews in 6 months, which is 7 times more than the average US business has altogether.
Option 2: Distribute "review cards"
A little more time-consuming to set up, but also far more effective, is distributing "review cards" – small cards with the web address where your business can be reviewed.
These review cards can also double as discount vouchers or promotional coupons that serve a dual purpose:
They make sure that the customer holds onto the card, instead of throwing it in trash giving them a constant reminder of your business.

Even if the customer doesn't leave a review, the discount voucher may entice them to return to your business later.
This method is far more effective than just asking, as the card will not only be with the customer until they're near their computer, but it also has the exact web address that they need to review you on, eliminating the need for your customer to try to find the review platform on their own.
The drawback is that review web addresses can be long and in the case of Google, somewhat non-existent. Also, getting cards designed and printed might turn out to be expensive and complicated.This is why the other options below may work better.
Option 3: Email or text them
A slightly better approach is asking your customers for a review when they're already near their computer.
If your business gathers customer phone numbers or email addresses, then it's relatively easy to send them a quick text message or email, asking them to review your business.
Contrary to the myth that people find this annoying, our research shows that less than 1% of people take offense when being asked to leave a review. This is an incredibly small price to pay for 100s of potentially glowing reviews!
Messaging your customers one by one can, of course, get quite tedious and end up taking up your entire day, which is the major down-side.
Option 4: Review Management Service
A review management platform (like Optimum Feedback) is a good combination of options 2 & 3, and it offers all the benefits but eliminates the main drawbacks.
A good review management platform gives you a number of pre-made review cards with your own details and design that you can distribute to your customers, but more importantly, it integrates with your existing method of gathering customer emails and phone numbers and automatically emails/texts your customers at exactly the right time.
Further to this, a review management platform lets you monitor all your reviews across every without having to log on to multiple sites on a daily basis.
3. Timing is Everything
It doesn't really matter whether you ask your customer for a review 6 hours after they've used your business or the next morning, right?
Unfortunately, this is wrong. There's quite a science behind the best time to ask for feedback. Our internal research shows that if a consumer is contacted at exactly the right time (this differs from industry to industry, which is why we have a powerful machine learning algorithm to make these decisions), they're over 152% more likely to leave a positive review.
It can be quite a hassle to determine the correct moment on an individual basis, but it's certainly not impossible. All you need is a big enough sample size of data and a lot of testing.
You can start by contacting your customers exactly 3 hours after they purchase, keep doing this for a month, and see how many reviews it results in. Next month, start contacting them later in the evening of their visit and compare the results. In 4-6 months you should have a relatively good idea when the absolute best time is.
This, of course, depends a lot on the type of your business. If you're running a retail business then the above numbers may be accurate, but for other business types the best time can be anywhere from immediately after the client experience is concluded up to even weeks after. It's important to figure out this "sweet spot" and use this knowledge to your advantage.
4. Funnel Negative Reviews Away from Review Sites
The quantity of reviews is important, but having 100 reviews will do little good if over 20 of them are negative.
Even the best businesses occasionally get an unhappy customer. If the damage has already been done, there is often little you can do to change their experience, but you can prevent the situation from getting worse.
Make sure that reviews from unhappy customers never reach public review sites.
But how do you do this? It's quite simple, actually: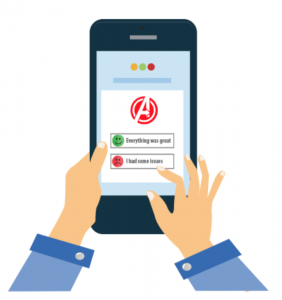 The customer receives a text or email asking them how their most recent experience was.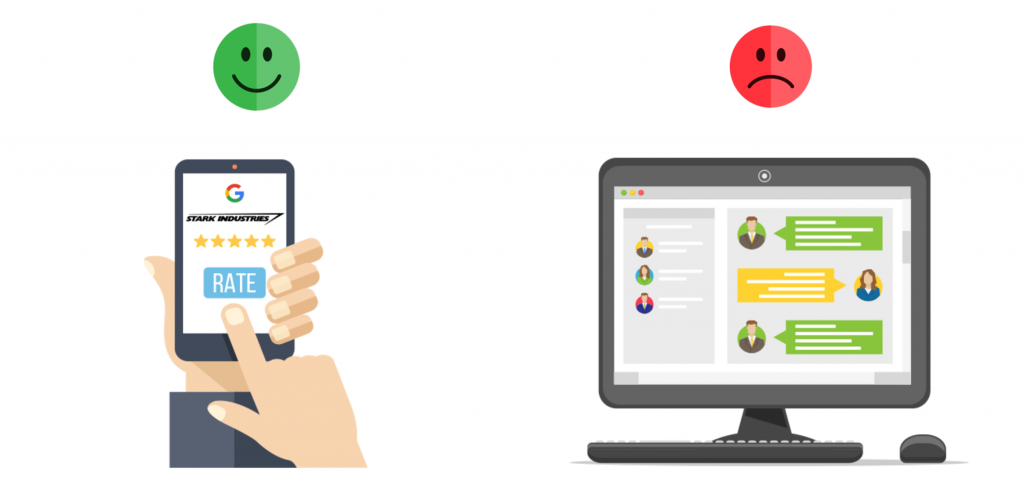 If the customer indicates they had a

positive experience

, the system asks them to leave a rating on one of your chosen review sites.

For added benefit, these reviews can also be automatically posted to Facebook.

If the customer had a

negative experience

, the system asks them to let you know what the issue was.

People who complain online often just want a platform to let you know they weren't happy.
This way, you can prevent bad reviews from ever going public.
While something like this would be prohibitively expensive for most businesses to set up on their own, there are platforms that cost as little as $99 a month that do this and take care of all other review management aspects.
5. Benefits of Having Reviews
By now, it should be clear that the obvious benefit of having more and better reviews is quite simply increased business and revenue. But that's not really all there is to it. In fact, there are several other equally important benefits to it:
Higher Google Rankings
Through Google's feature called Local Search (Related: Increase Your Small Business Revenue by 300% With Google Local Search), your business's search engine rankings in Google will actually increase the more (and better) reviews you have.
This is a little-known secret, and all it takes is the smart accumulation of reviews. No need to pay thousands of dollars to search engine optimization companies.
Reduced Impact of Negative Reviews
Every business, no matter how good, is bound to receive a negative review at some stage. If it hasn't yet happened to you, you can consider yourself lucky.
As you can imagine, having negative reviews is bad, but what many don't realize is that having even just ONE negative review can drastically hurt your business, as long as it's among the most recent reviews.
Our recent study showed that as much as 73% of consumers only read the 6 most recent reviews before making a purchase decision, so even if you have hundreds of positive reviews, having a negative one right at the top is a huge deal.
But with smart review management and a constant influx of new (positive) reviews, the impact of a single negative review, left by an over-demanding customer, is reduced to near-zero.
Reviews Trigger Reviews
Just as money makes money, reviews make reviews.
Our research has concluded that consumers are far more likely to review businesses that already have a high number of reviews, so it's a nice snowball-effect that will work in your favor, and soon enough leave your competitors wondering what they're doing wrong ….. and the customers walking through your door, not theirs.
Bottom Line
Regardless of whether you're running a small business with just one location, or a large chain with 100s of outlets, reviews are important.
Even if you're not in a position to implement a review management solution, I'm hoping this guide gave you some actionable tips that you can implement on your own.
What are your own experiences like with online reviews? Let me know in comments below, and also if you have any questions that I can help with!