Last week, Google released an experimental feature called Google Posts, which is integrated into their Google My Business service and, more importantly, into Local Search.
If you don't yet know what Google My Business and Google Local Search are and how they can benefit your local business then make sure to read our Step by Step Guide to Google Local Search.
What are Google Posts?
Prior to last week, businesses were able to show their prospective clients different information, from opening times to pictures and basic information about the services provided.
But apart from third party consumer reviews, none of this information was dynamic, meaning it was impossible for a business to showcase current promotions, discounts or special offers to searchers.
This changed recently, and Google now allows businesses to add what they call "Posts" to their business listings.
The content of a post can be anything from news to current promotions, discount offers or anything else relevant to a company's audience.
Unfortunately, there's very little information available about this new feature and how to use it, so we'll try to give you a comprehensive overview and answer the most common questions that our clients have asked us.
Google Posts – Common Questions from Local Business Owners
Why should I care?
Google's local business listings are extremely powerful. These "snippets" have a much more prominent placement in Google's search results than normal results, and therefore could deliver a lot more visibility, if used correctly.
Some claim that Local Business Cards have delivered upto 36% higher visibility than even the number one search result … a huge increase!
With the newly introduced posts feature, you can now choose exactly what kind of content you want searchers to see.
What am I allowed to post?
While there are certain limitations on what you can post, the rules are fairly relaxed. As long as the content you're posting is relevant and doesn't link to any viruses or malware, or doesn't promote restricted goods or services, you should be fine.
What can I do to make my posts stand out more?
Google Posts can also contain images. And images, if done right, are a great way to make your listing stand out even more.
For best results, make sure your images are professionally put together (this is pretty easy to do, even for non-designers using tools like Canva).
It's also extremely important to make sure the image dimensions are set so the image looks good across all devices and browsers.
For Google Posts, we recommend image dimensions of 1080 x 608 pixels, but it should be at least 480 x 270 pixels.
How do I add posts?
Sign in to your Google My Business account (http://business.google.com) and once signed in, click on the "Posts" link in the left side menu, and follow the on-screen directions to publish your post.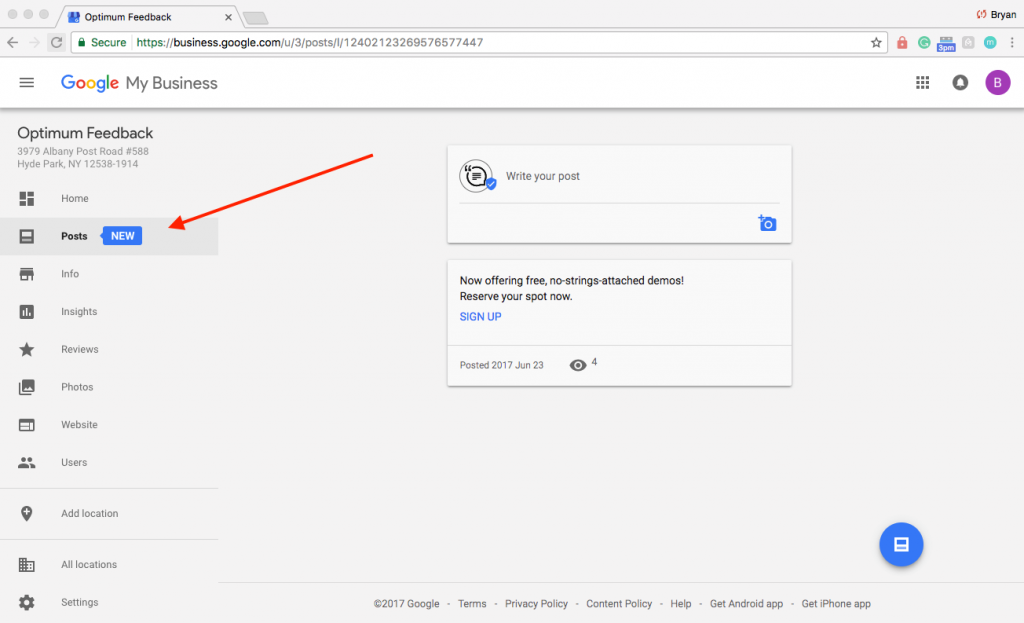 You can view the results by searching for your business either though Google or Google Maps.
Bottom Line
We're excited about this new feature, as it's something that could have a significant impact for local businesses, helping them deliver current and accurate information straight to searchers.
It's worth noting though that it's still only an experimental feature, meaning that changes are likely and it may not be available for all businesses just yet.
We'll keep an eye on any developments and let you know if there are any major changes.