Imagine a pre-COVID world where you still meet friends for lunch and go to house parties later in the evening 😔.
You can't remember what time you agreed to meet up. And someone told you the house party is fancy dress – but you want to be 100% sure before you turn up in that Cobra Kai skeleton onesie.
Hands up if you're more likely to message a friend to find out than make a phone call?
Well, you're not alone, and neither are your customers.
When people have a quick question, they prefer to ask by message. Email forms still work, but texting is easier and more effective. It replicates our natural behaviour and uses something we frequently have in the palm of our hands, no extra effort required.
Even before the pandemic, business SMS was becoming the go-to additional channel to communicate with new and existing customers. Now, it's more popular than ever before, and businesses that are slow to adopt it are being left behind by their competition.
And that's where we come in
We've just launched Business SMS across the platform. Every location can choose a unique local phone number from a list of numbers all based in their business's city / state.
At some point, we'll replace this next part with a slick animated video (the type with annoyingly upbeat music narrated by a guy that sounds creepy and sophisticated in equal measures).
For now, here's an overview with old fashioned pictures and words.
Respond to incoming enquiries as a team
We surveyed some of our existing users to find out if they were already using SMS to communicate with their customers. Almost all of those that were, were doing it from a mobile phone (often the owners).
This does solve the messaging problem, but it doesn't work well when you want other people to respond on your behalf. Taking a vacation? Good luck unless you're willing to leave that phone with someone else.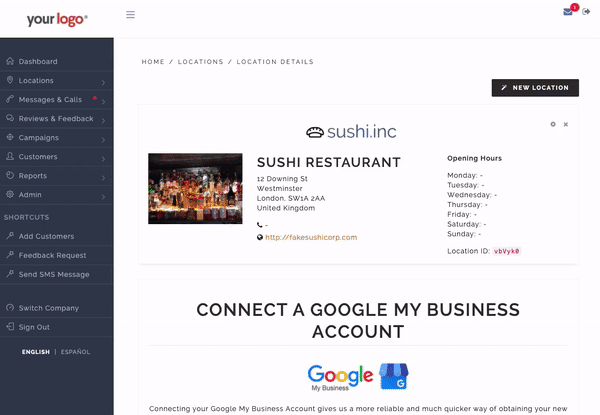 With Business SMS, all your new SMS messages arrive in your Inbox which you access through the platform.
We've deliberately made the Inbox very similar to another messaging platform that rhymes with 'Lace book Stressinger' to create a familiar experience for anyone who uses it for the first time.
Invite anyone in your team or company and let them reply to messages from customers, with all replies coming from your company's dedicated SMS number.
Message forwarding and Smart Reply
If you want to know whenever you receive a new message, even when you're not signed in, you can send new messages to your mobile phone or email address.
What our testers love is that you can also reply from your mobile phone when you enable Smart Reply. Reply to the message from your phone and our system will send the recipient your reply but from your business's number instead of your own.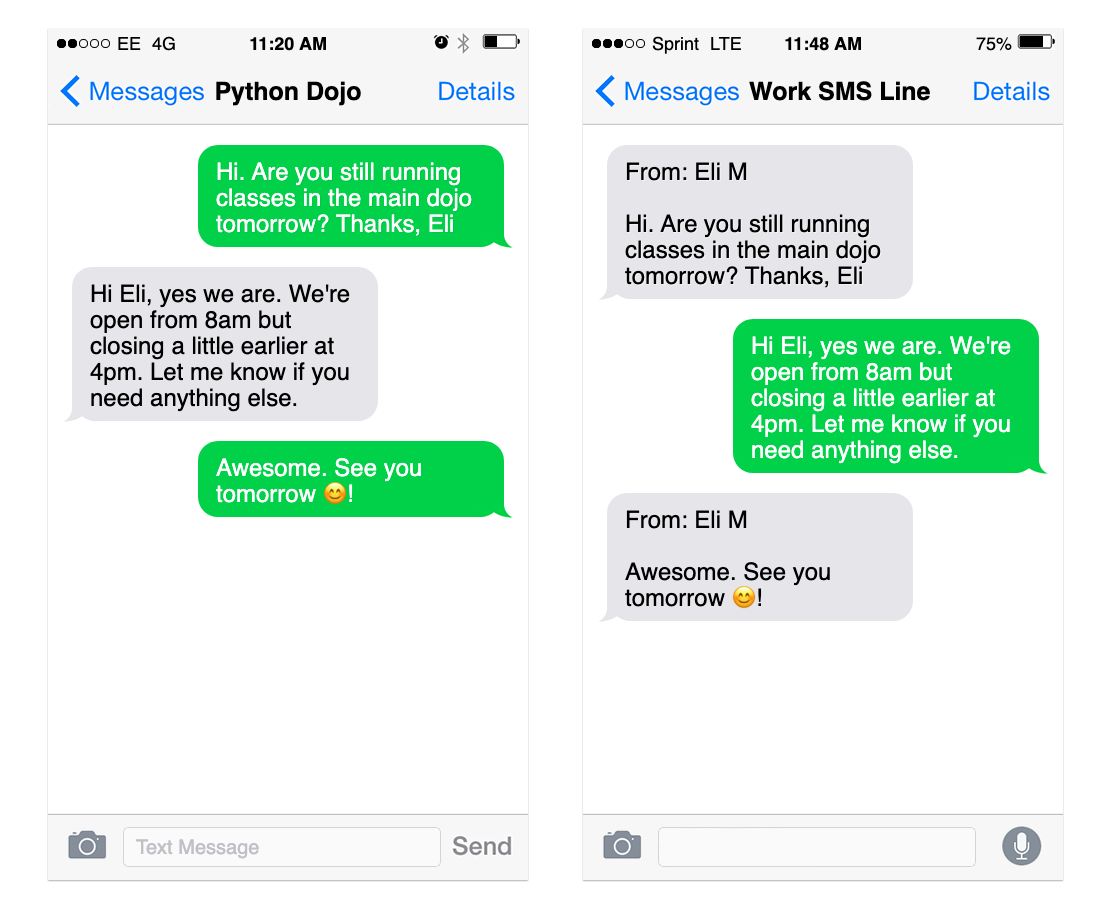 No more calls at 7:30 am from that over-enthusiastic client that stored your personal number when you last sent them a text!
Use Template Responses to answer frequently asked questions
When was the last time you used an FAQ to find the answer to a question you had?
Exactly.
Static FAQs are more for SEO and rarely deliver an ROI. And, we clearly like using acronyms to help us sound more intelligent.
By saving the responses to questions you frequently get asked such as opening times, directions, or questions about pricing, your entire team can save time by not having to repeat themselves. You can even use Template Responses to reply to reviews with a quick thank you note.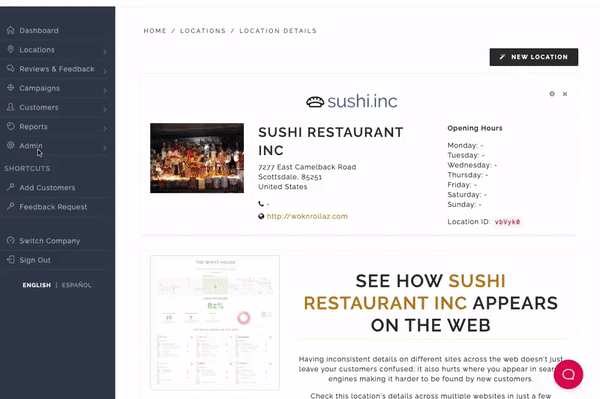 Template Responses also let you personalise the response at the time you insert it, with things like the name of the user, the customer's name or details about the location. So sending a 'personalized' thank you message is now 3 clicks.
Business SMS in action
We've been testing Business SMS for a few months and it works amazingly well with the recently launched SMS Campaign feature to create a multi-channel communication strategy.
The uses vary by business and sector, but our clients have used it for:
Getting more orders from existing customers
A client who runs a domestic waste bin cleaning service places stickers on the bins with a number people can text when they need a clean.
The result? His customers ordered 23% more cleans over a 3 month period than when the stickers asked them to call during office hours.
Quick Polls
Need to know whether or not to open the practice on Sunday or move into offering boiler servicing? Just ask!
People are far more likely to respond to a personal question than an email or online survey.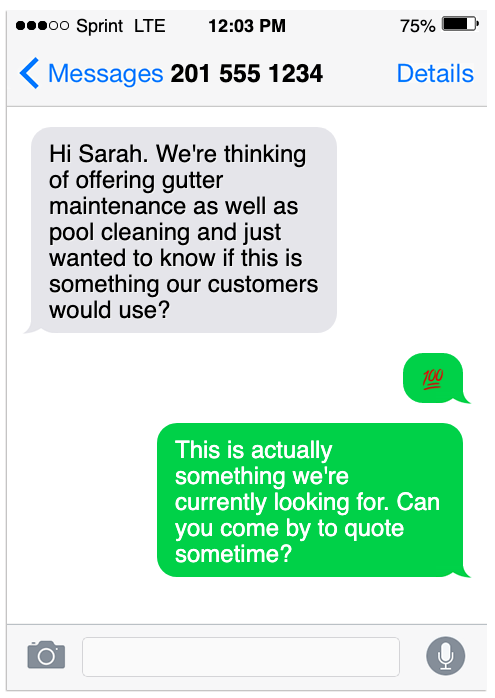 Taking New Orders
A restaurant we work with tried to find a new way of taking orders during the lockdown. They were losing 30% to platforms like Deliveroo and Uber Eats which didn't make financial sense as they were already well known in their local area.
Customers were given a number to place their order by text. After the first order, the restaurant already had their delivery address so customers could reorder in seconds.
As text orders increased, phone orders decreased and revenue went up with 100% of the transaction being kept by the business.
Providing Information
With many businesses temporarily closed or operating reduced hours, it's difficult to trust opening hours on a website or Google Maps. Let potential customers check opening hours, get directions and check accepted payment methods with the confidence the information is correct and up to date.
Account Administration
Let customers update the details you hold for them or tell you about issues or problems with the service you offer. A national hire car chain used Business SMS to let customers text them if they needed to extend their rental.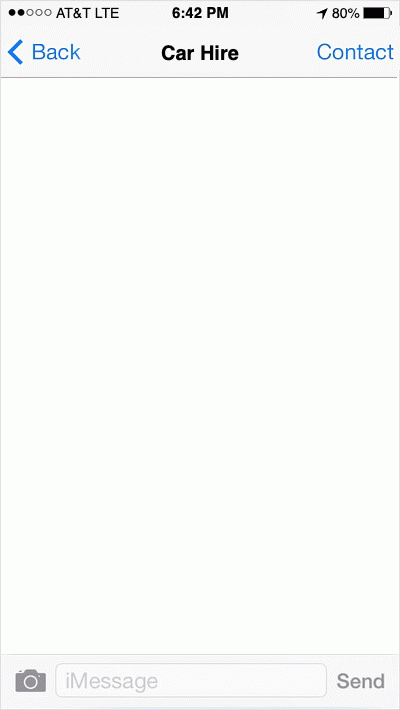 Appointment Reminders
Still calling clients to confirm upcoming appointments or reservations? Use Template Responses to send a reminder in seconds.
Skip the hassle of leaving voicemail and free your team to do other, more productive things.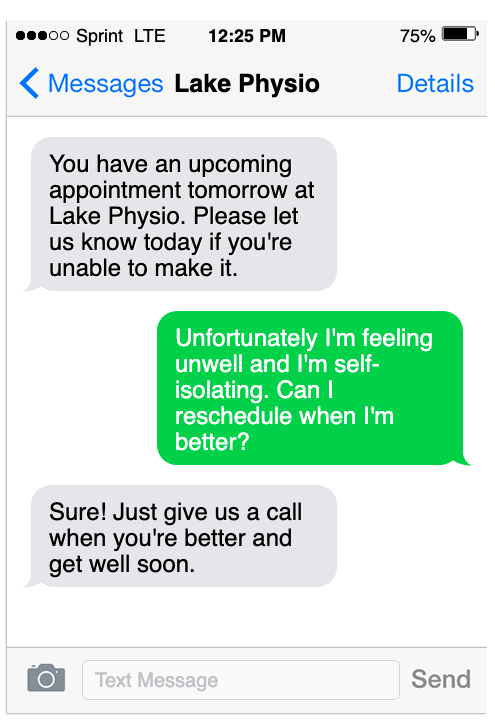 Customer Loyalty
One of our clients used SMS and Template Responses to send their customer a happy birthday message. Others have used the SMS Marketing tool to send out discount codes and vouchers to encourage repeat purchases.
Call Overflow
Can't get to that call? Give customers the option to text instead of leaving a voicemail and reduce your administration burden.
Getting started with Business SMS
To get started, sign in to your account and head to Messages > Connected Number to choose your number.
There are lots of ways to use Business SMS to delight customers, increase loyalty and reduce admin and we're excited to see how you'll use it to improve your customer communications.